Our restaurant provides environments with continuous air sanitization 24/24h
The devices are OZONE FREE: this feature let us to sanitize our three internal rooms, allowing you to enjoy an excellent meal in a safety place.
Follow us on the social media!
FRIENDSHIP AND PASSION
FOR COOKING
---
Here at "Cusina e Butega" you can feel again intense emotions, like friendship and the pleasure of eating at the table. Discover again ancient flavors in an elegant and friendly environment thanks to our expertise and thanks to over 30 years of experience in culinary arts.
For many years, Eleonora and Ennio are dedicated with passion to the ancient profession of the restaurant, always bringing something new to your table. From our great experience is now born in Ferrara's historic centre "Cusina e Butega", inspired by the tradition of the past century: the restaurant with annexed shop, where you can enjoy and purchase all the culinary specialties of Emilia-Romagna.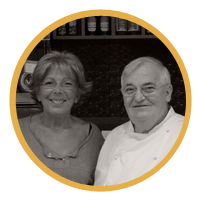 SATURDAY, SUNDAY AND HOLIDAYS INCLUDED
RESERVATION NUMBER : 0532 209174